Together with Customer
Satisfying Customers with the Finest Quality
Since establishment in 1946, our mission at KOSÉ Group has been to deliver with passion cosmetics and services of the finest quality to customers.
Being in the business of creating beauty, we strive to meet the customers' desire to stay beautiful and healthy by providing high-quality products and services, with safety as the top priority, to enrich each individual customer's lifestyle.
Continuing to Refine Quality
Since its foundation, KOSÉ has thoroughly upheld quality control, from procurement of raw materials to production, to make the best quality cosmetic products. In the KOSÉ Quality Policy established in 2010, a sentence "Customer satisfaction is our priority" was placed at the core of all operations, allowing us to pursue quality in a more vast and deeper sense.
KOSÉ Quality Policy
"Customer satisfaction is our priority."
KOSÉ offers good products with assured security and safety.
KOSÉ pursues attractive products and the highest quality.
KOSÉ provides accurate information to build relationships of trust with customers.
KOSÉ listens to customers and uses their opinions to improve its products.
KOSÉ complies with laws and regulations governing manufacturing and services.
Quality Assurance Initiatives for New Product Development with Priority on Safety and Reliability
The cosmetic products that come into direct contact with the hair and skin are used in many ways depending on the environment and the individual customer's preferences.To ensure that customers can use our products in any situation without worry, safety is kept at the highest priority in the development of new products. Toward this purpose, we refer to all sorts of quality standards in addition to our own safety standards. In every step of production from the raw materials stage to packaging, our Quality Assurance and Product Development departments repeatedly conduct assessment and validation of products. Additionally, we enforce a rigorous test on final products that anticipates the customer's usage situation, ensuring their safety for use before sending them out into the market.
Quality assurance in the development process of new products sold by the KOSÉ Group
Our Policy on Assuring Safety of Cosmetics
The quality demanded in cosmetic products often changes due to customer needs, advancements in science and technology, market factors, social environment, and so forth. The KOSÉ Group, in an attempt to anticipate such changes and realize this product quality, participates proactively in the ISO (International Organization for Standardization) Technical Committee for cosmetics, and in Public scientific research groups into developing new testing procedures for safety assessment.
With safety as a top priority, KOSÉ Group designs and develops cosmetic products (including quasi drugs) based on a policy for eliminating animal testing*.
We eliminate animal testing by utilizing a vast amount of safety data accumulated from our years of research and development activities. We have set unique safety criteria to ensure safety by taking advantages of alternative testing methods and human clinical studies.
*Except for cases where accountability for safety is demanded socially or requested by governmental authority/regulators.
Furthermore, KOSÉ understands that the abolition of animal testing is a necessity in global society and, hoping for its swift implementation on a worldwide scale, has been deeply involved in the development of alternatives to animal testing since the 1990s. Along with continuous support of the Japanese Society for Alternatives to Animal Experiments, KOSÉ endeavors by participation in the cooperative efforts among industry, academe, and government, to spread and develop these alternative methods.
Production System for High-Quality Cosmetics
A production department strives to deliver the best quality, upholding the founder's belief that "for the one product that is taken into the customer's hands, earn trust by providing the highest quality."
In the 1970s, we were quick to introduce quality control (QC) at our production sites, and in 1980 we became the first company in the cosmetics industry to receive the Deming Prize, one of the world's most renowned prizes for total quality management. In 2020, all our production departments acquired ISO 9001 certification, the international standard for quality management systems. To further globalize our quality assurance system, in 2001 we also obtained ISO 22716 certification, the global standard for good manufacturing practices (GMP) in cosmetics, for all the KOSÉ Group's factories. Having both these international standards allows us to maintain superior levels of manufacturing and quality control.
KOSÉ Group List of Production Department ISO Certifications

07.2023
| | | | |
| --- | --- | --- | --- |
| Company/office | ISO9001 | ISO22716 | ISO14001 |
| KOSÉ Production Department | 〇 | 〇 | 〇 |
| Gunma Factory (KOSÉ INDUSTRIES CO., LTD.) | 〇 | 〇 | 〇 |
| Sayama Factory (KOSÉ INDUSTRIES CO., LTD.) | 〇 | 〇 | 〇 |
| ADVANCE CO., LTD. | 〇 | 〇 | 〇 |
| Kumagaya Factory (ALBION CO., LTD.) | | 〇 | |
| Hsinchu Factory(TAIWAN KOSÉ CO., LTD.) | 〇 | 〇 | |
ISO 9001: International standard for quality management systems with the purpose of improving the quality of "products and services" provided by companies and organizations.
ISO 22716: International standard for quality and safety in cosmetics manufacturing.
ISO 14001: International standard for environmental management systems designed to improve a company's environmental performance while protecting the environment.
Organizational Structure to Swiftly and Earnestly Respond to Customer Feedback
KOSÉ has established a tight-knit cooperative network related to quality assurance by installing a Customer Service Center in our Quality Assurance Department and strives to provide rapid and sincere support to our customers
Customer requests and reports are filed as valuable information into the MIRAI Kizuna System*. These assets are shared speedily within the Company to improve quality and service, by which we aim to gain further customer satisfaction and trust.
Furthermore, we at the KOSÉ Group believe that our relationship with customers begins from the moment we manufacture our products. For this reason, cosmetic products of the same type manufactured in the same period are stored together and constantly checked for product safety, while steps are continually taken to guarantee their quality.
*Customer feedback in this system is used to improve KOSÉ products and create a better future.
KOSÉ Group – Organizational Structure for Quality Assurance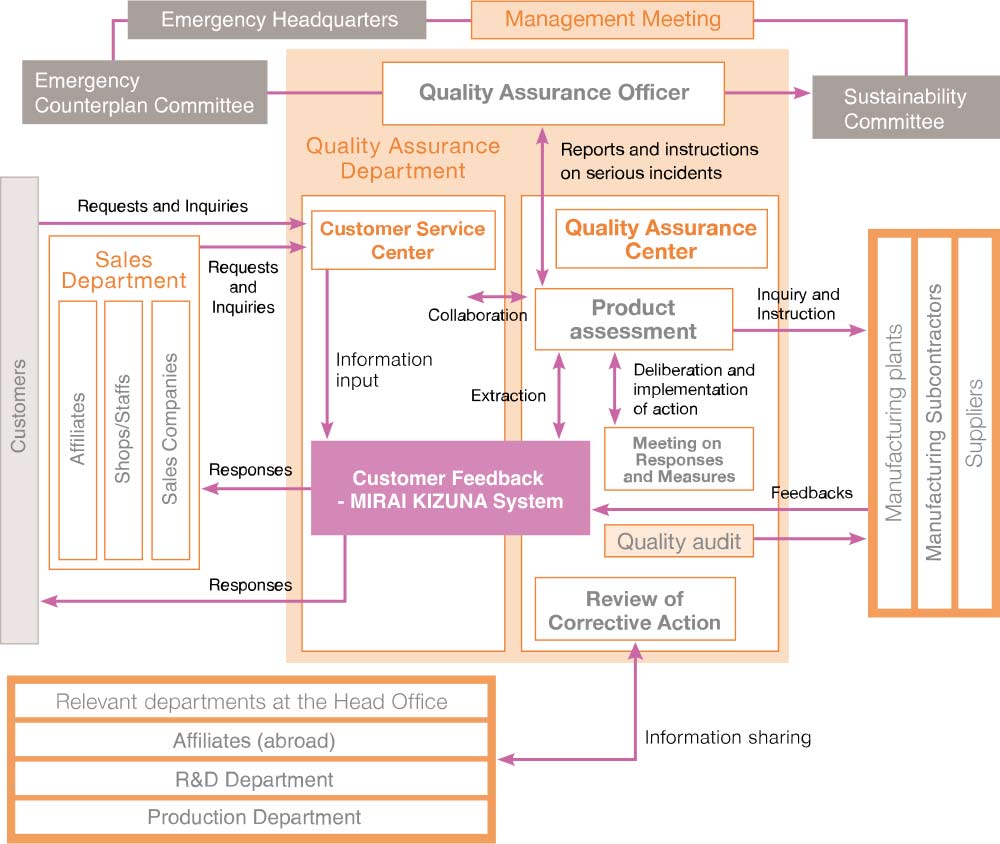 Response to Unforeseen Incidents
In the event that an accident or unexpected trouble causes quality issues and results in any product liability incident, information regarding the incident is automatically gathered from all departments and reported to the Quality Assurance Department. The Quality Assurance Department then defines the severity of the incident in terms of product liability, hazards to health, and potential expansion of the damage. Serious quality issues are immediately reported to the Emergency Counterplan Committee, and appropriate measures shall be taken on a corporate-wide level, beginning from top management, in response to the incident.
Meeting and Exceeding Customer Expectations
Beauty Consultants That Draw Out Your "One-of -a-Kind Beauty"
As customers have their specific own worries and distinct visions about beauty, our beauty consultants work closely with customers to provide the best skincare, makeup, and beauty solutions to draw out yet unnoticed aspects of an individual's beauty.
With the challenges presented by COVID-19, our beauty consultants have developed ways to serve customers in a non-contact manner and in a short period of time. We also provide an online customer service for customers to receive counseling from the comfort of their own homes without worrying about the time and effort needed to visit a store.
Our beauty consultants are committed to meeting and exceeding customer expectations, applying the varied beauty wisdom they have developed to bring out your "One-of -a-Kind Beauty" and deliver color and radiance to the heart.
Policy for Beauty Consultant Activities
We Strive to Go Beyond Expectations.
The Role of Beauty Consultants
To everyone around the world.
With sincere commitment, we engage in repeated dialogue with our customers
to together discover individual hidden beauty potential and charms
Furthermore, we apply the varied beauty wisdom we have developed
to help bring out your "One-of -a-Kind Beauty" and deliver color and radiance to the heart.
Honest support system for customers' demands – Customer Service Center –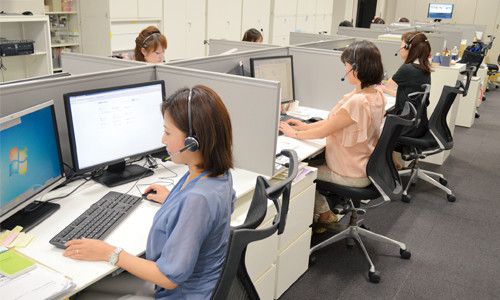 Customer Service Center
KOSÉ has established a tight-knit cooperative network related to quality assurance by installing a Customer Service Center in our Quality Assurance Department in an effort to provide rapid and sincere support to our customers. We are sincere in the services we offer as a foundation of "attentive listening," "empathy," "promptness," and "trust" for the inquires and feedback we receive. We endeavor to improve our adaptability through the implementation of training and satisfaction surveys. In addition, we actively share and use product knowledge (various information and assumed dialogue related to products and promotions) even across other departments.
Gather a Broad Range of Customer Feedback for Better Products and Services
The MIRAI Kizuna System is used to collect customer feedback, which is aggregated and regularly reported as Customer Feedback Reports to relevant departments, which are used to improve products and services. We commonly receive customer inquiries about product features and use, for example, but KOSÉ does not stop at only responding; we also use this feedback as an impetus for various improvements such as changing package information to make it easier to understand.
KOSÉ also conducts NPS®* evaluations with around 20,000 customers a year at our directly operated Maison KOSÉ stores, as well as through various e-commerce sales and online customer services. We analyze the evaluation at each touchpoint every month and take concrete actions to improve and enhance our services.
*NPS® (Net Promoter Score) is an indicator to measure customer loyalty. By quantifying the degree of attachment to and trust in a company or brand, the score is used to evaluate and improve the customer experience at points of contact.
Case Study of Product Improvement Reflecting Customer Feedback
We carefully listen to customer feedback and incorporate that feedback into our everyday product development.
Here is one example of a product improvement resulting from customer feedback provided to the Customer Service Center.
Improvements to Tamper Tapes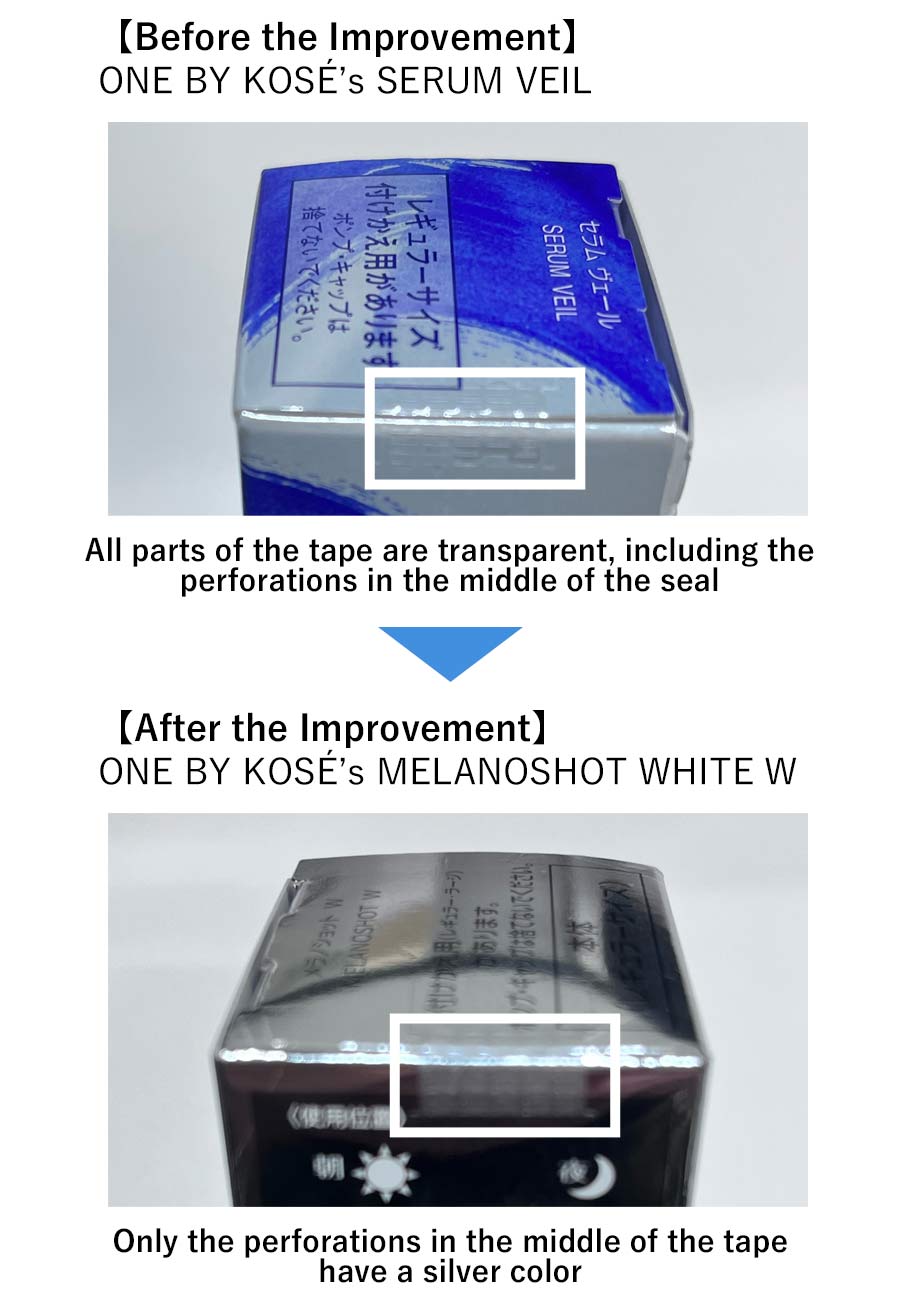 By changing tamper tapes from clear to color, customers can easily determine if a package has been opened.
As one of our environmental efforts, we have been working to reduce the amount of plastic by not using tear tape packaging for ONE BY KOSÉ's SERUM VEIL and MELANOSHOT WHITE D.
Instead, a clear strip of tape is fixed on one side of the product box as an indicator of whether or not it has already been opened.However, this transparent tape can be easily cut, so customers would sometimes open the package without noticing the tape and would contact us, worried that there was no tamper tape.
Given this feedback, we decided to change from clear to colored tape, making the tape more visible so customers can determine whether or not the package has been opened. Moreover, color has been added only the center portion of the tape, allowing the text to be easily read while maintaining the integrity of the box design.
*Introduced with ONE BY KOSÉ MELANOSHOT W, released in February 2023.
Caps and Containers That Can Be Opened Any Way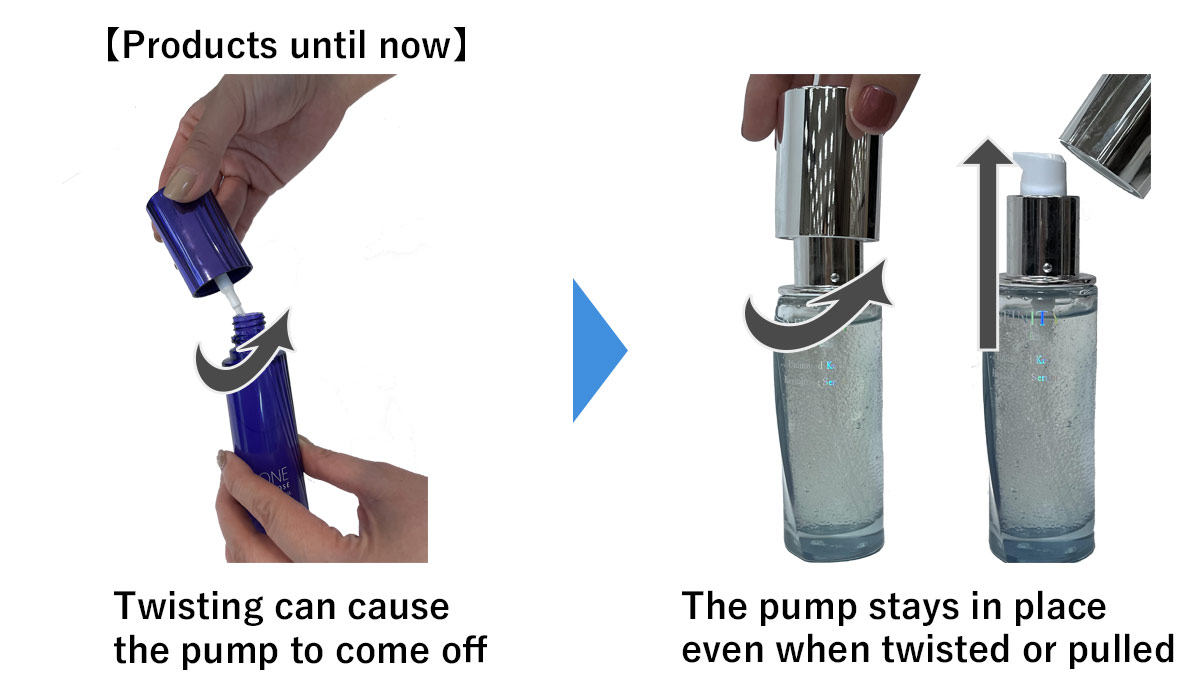 With a cap and container that can be opened by either twisting or pulling, the pump will not separate from the container.
It can be difficult to tell whether one should pull or twist off an opaque product cap. Many customers told us that when they mistakenly twisted the cap when it should have been pulled off, causing the pump to separate from the container.
To respond to this feedback, we developed a mechanism in which the cap gradually rises up and comes off when the cap is turned by adding special protrusions inside the cap and container (patent pending).
This mechanism makes it possible to smoothly remove the cap without the pump coming off whether someone twists or pull offs the cap.
*Introduced with INFINITY Unlimited Key released in August 2022. We plan to expand use of this mechanism in other products as well.
DECORTE
ROUGE DECORTÉ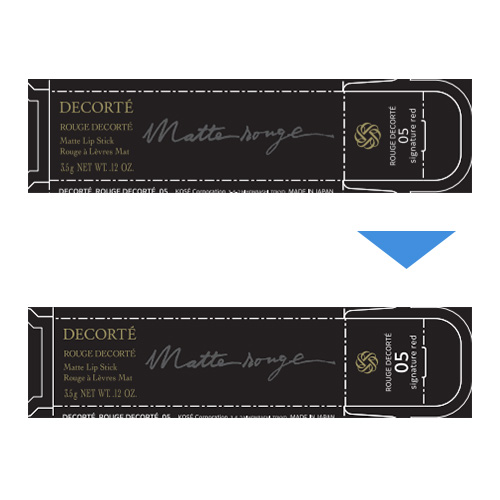 A bolder and larger color number on the packaging makes the information easier to read.
Product packaging has a limited amount of space to provide information such as product characteristics, use, and ingredients.
For this reason, many customers provided feedback regarding small packages, nothing that color numbers, which are particularly important when purchasing makeup products, are too small and difficult to read and would like the information to be more legible and easier to understand.
In response, we have made the color number for DECORTE ROUGE DECORTÉ as large as possible and bolder while maintaining the concept of the package design.
Flora Notis JILL STUART Eau de Parfum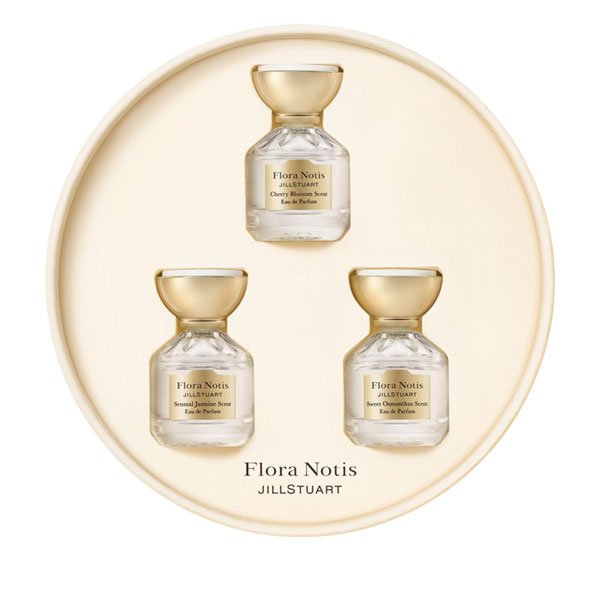 Sale of 5 mL trial sizes.
The various floral fragrances of Flora Notis JILL STUART have been well-received since the initial release in 2018.
In response to customer feedback such as "I don't know which scent I should buy" (there are currently more than 10) and "I want to try it, but there aren't any stores near me that carry it," we added 5 mL eau de parfum trial sizes in October 2022.
For customers who can' decide which scent to buy when only 100 mL and 20 mL sizes are available, the trial size makes it easier to make a choice, both in terms of size and price.
Easy-to-Use Products for all
We at KOSÉ work towards providing easy-to-use items for everyone whenever we develop new products.
We have also made provisions for customers who are visually impaired to be able to identify products by touch.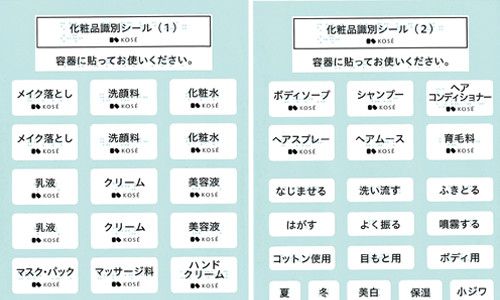 Braille stickers available for free
Visually impaired customers may avail of, without charge, "Braille stickers," on which the names of cosmetic products and instructions for use are printed in Braille and large-font characters. These stickers can be placed on the containers of individual products. Please contact the KOSÉ Customer Service Center to have the stickers on your purchases.
(Toll-free number:
0120-526-311)
(For requests by e-mail, kindly click here)
Universal Design for Diverse Living Needs

KOSÉ COSMEPORT Corp. Initiatives

Universal design is the designing of products from the initial stages with a view to being usable by everyone to the greatest extent possible, regardless of age or ability.
Understanding with a Look, Communication with a Touch
Braille Information

A universal product with braille that is easy to use for all, not just those with a visual impairment.

The package front says "makeup remover face wash" in braille.

Clear external pouch says "Sunscreen."

Braille Used

Packaging with Tactile Identification

The back side of the package is embossed with the word "body."

Softymo Natu Savon Select White Foaming Body Wash, both types (original bottle, refill)
Softymo Natu Savon Select White Body Wash, all 4 types
Softymo White Body Soap, all 3 types
SAVON DE BOUQUET White Body Wash

Designs for Colorblindness

We endeavor to use designs that are "barrier-free" for persons with color vision deficiencies by using color palettes and layouts that are easy to read and see.

MEN'S SOFTYMO Rinse In Super Tonic Shampoo (original bottle, refill)
HYALOCHARGE Medicated White

Design for diversities in color vision gives consideration to conveying information from the user's point of view so the product is usable by everyone to the greatest extent possible.

Embossing

The shampoo pump and refill pouch are embossed so that the difference between the shampoo and conditioner can be recognized by fingertip. The body soap bottle is also embossed.

The side of the package has a line for tactile identification.

Je l'aime Shampoo, all 6 types
SALON STYLE Shampoo, both types
SS BIOLISS Botanical Shampoo, both types
SS BIOLISS Veganee Botanical Shampoo
Men's SOFTYMO Rinse In Super Tonic Shampoo
SOFTYMO Natu Savon Select White Foaming Body Wash, both types
SAVON DE BOUQUET White Body Wash
DEO CARAT Medicated Deodorant Body Wash
CERAMIAID Medicated Face & Body Wash (original bottle, refill)
For other KOSÉ COSMEPORT initiatives, see here.
Aiming to provide products that are easy for everyone to use (on the KOSÉ COSMEPORT Corp. website)
"BIOLISS PEACEFUL GREEN" Project (on the KOSÉ COSMEPORT Corp. website)