Social and environmental issues and Material issues
Process for formulating and executing the KOSÉ Sustainability Plan
We used the following procedures and methods to identify the material issues that the KOSÉ Group should address and to set, approve and promote activity themes.
1.Identification of social and environmental issues
Identify issues the KOSÉ Group should address
We identified the issues the KOSÉ Group should address with reference to the following:
ISO26000
GRI standard
UN Global Compact
UN Sustainable Development Goals (SDGs) (17 goals and 169 targets)
International and social conditions external evaluation institutions, consumer feedback data from the Customer Service Center, dialogue with NPOs and NGOs)
Opinions within the Group s Sustainability Promotion Committee ( members from a total of 33 departments and operating companies)
Material issues in our industry and other industries
2.Definition of activity themes
Categorize activities
We evaluated issues identified in Step 1 above on the axes of importance to society (customers, business partners, employees, shareholders, local communities , the international community, NPOs, NGOs, etc. etc.) and importance and relevance to the KOSÉ Group. Next, we applied our guiding principle for sustainability Creating Beauty in a Sustainable World to group issues , dividing them into two core categories, one related to people and society and the othe r related to the Earth . We also defined six main activity themes aligned with our fundamental policy Mind to Follow the Right Path.
3.Approval
Senior management commitment
Mission formulation processes , activity themes and milestones toward achieving targets were reported to and approved by the Board of Directors and the Sustainability Committee.
4.System for confirming progress and reviewing activities
System for confirm ing progress and review ing activities
The Sustainability Promotion Committee, which is a Group wide organization that reports to the Sustainability Committee, regularly confirms progress toward targets and reviews activities.
Social and environmental changes and issues relevant to the KOSÉ Group and identification of material issues
We identified 21 material issues by first identifying social and environmental changes and issues relevant to the KOSÉ Group as well as related opportunities and risks.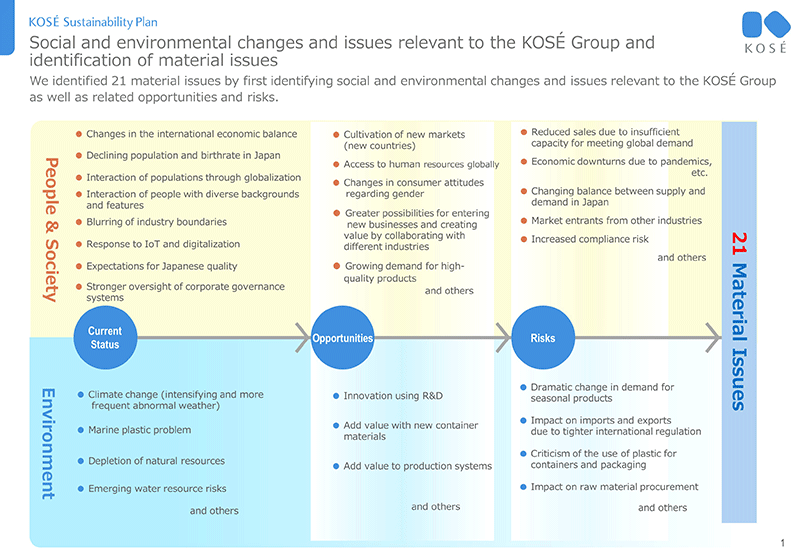 Material Issues and Themes
We checked our 21 material issues against our guiding principle for sustainability and the fundamental policy to define six activity themes and six primary categories divided into the three areas of People, which relates to society and individuals; the Earth, which relates to the environment; and Mind to Follow the Right Path, which relates to our corporate fundamentals.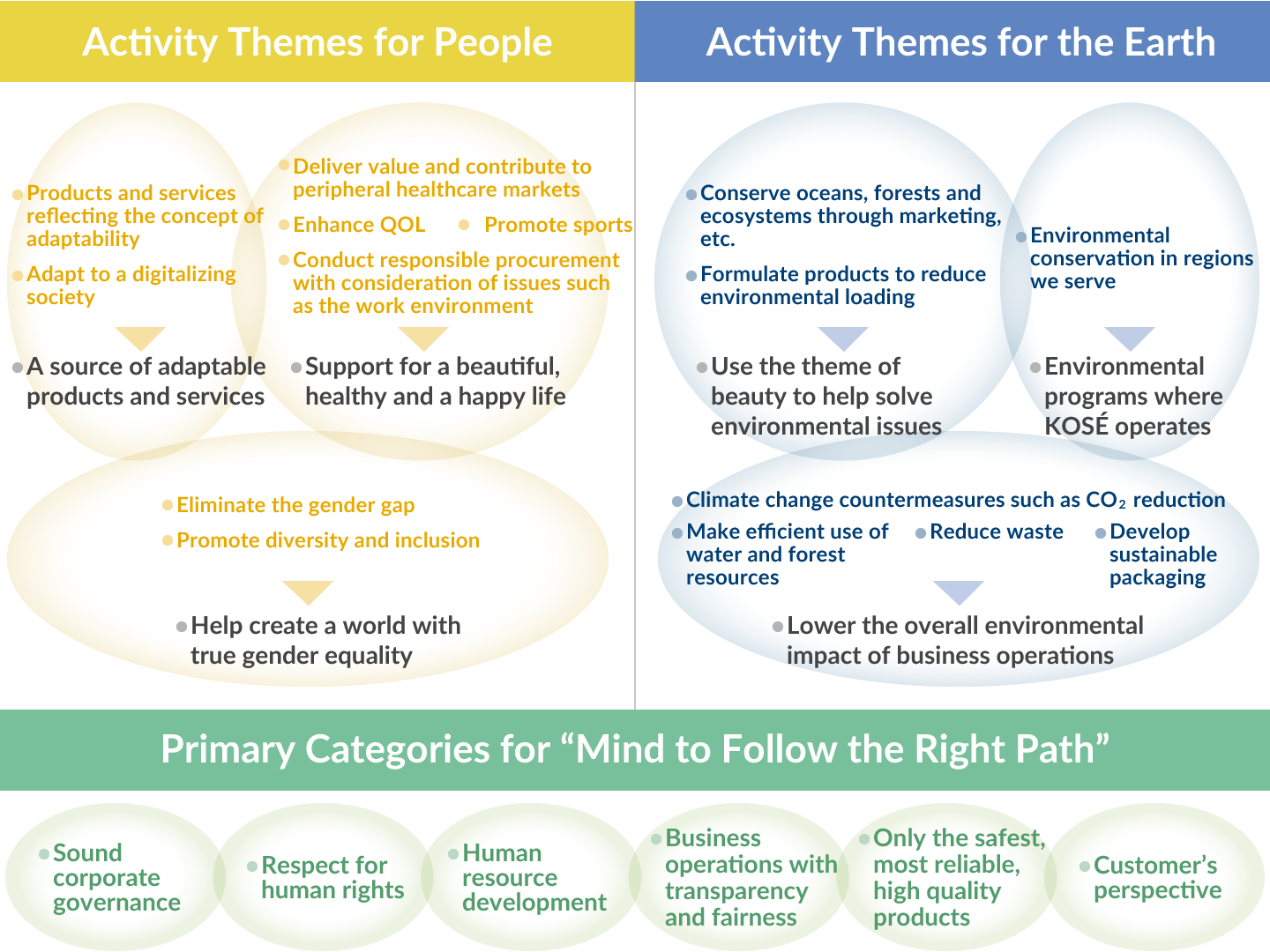 Sustainability Plan
TOP
Social and environmental issues and Material issues
Medium-to-Long-term Targets of Activity Themes
Stakeholder Engagement