Stakeholder Engagement
KOSÉ Group Stakeholders
In all its activities, the KOSÉ Group places importance on its relationship with all stakeholders, including the next generation.
We also think of the global environment, which is the basis of our corporate activities, as an important stakeholder.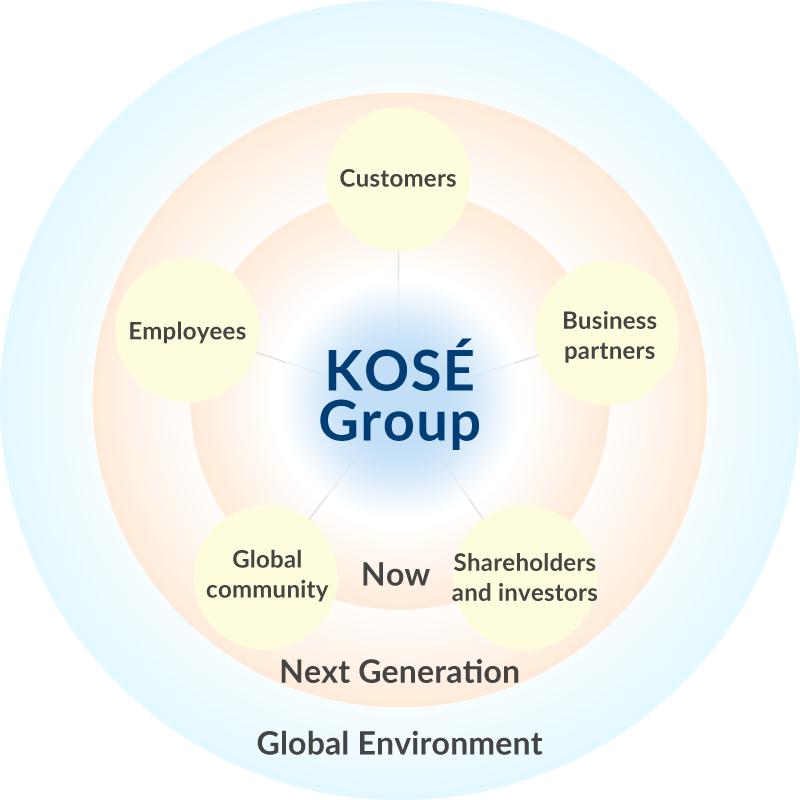 Stakeholder Engagement
The KOSÉ Group is deepening engagement with all stakeholders. Where appropriate, we have reflected the opinions and evaluations received from our stakeholders in the sustainability promotion and corporate activities of the KOSÉ Sustainability Plan.
Stakeholder
Communication Contact Point
Frequency
Summary
Customers
Customer Service Center
As needed
Functions for response to customer queries by phone, email, mail and chat and for sharing customer feedback internally
Maison KOSÉ (online shop and physical store)
As needed
Communication of Company information and information on businesses, and response to customer feedback
KOSÉ-managed social network accounts
As needed
Communication of Company information and information on businesses, and collation of comments
Business partners
Stores
Conferences, events, seminars, etc.
As needed
Sharing of Company and business policies and gathering of opinions
Suppliers
Purchasing policy meeting
Once yearly
Information sharing and collaboration for responsible procurement
Questionnaire
Once yearly
Direct individual dialogue, etc.
As needed
Employees (Including recruiters)
Labor-management consultation meetings
Multiple yearly
Discussion, negotiation, opinion exchange, mutual understanding
Employee consulting channel and internal reporting channel
As needed
System for confidential help and support
Level-specific training for all employees, internship seminars, etc.
Multiple yearly
Information sharing and opinion exchange regarding Company and human resource development policies
Global community
Local communities
Various beauty seminars, sponsorship of local activities, etc.
As needed
Interaction with residents of local communities, sharing of Company and business information, and promotion of understanding
Various stakeholders
Participation in industry groups, dialogue with NPOs and NGOs, participation in various initiatives, etc.
As needed
Shared recognition of social issues and use of information acquired for internal PDCA cycle
Shareholders and investors
General Meeting of Shareholders
Once yearly
Presentation of business report, consolidated financial statements, financial statements and audit report, and deliberation and resolution
Results presentations
Twice yearly
Presentation of results, management strategy, business activities, etc.
Individual dialogue with investors, integrated report, disclosure on sustainability section of corporate website, etc.
As needed
Explanation, communication and disclosure of results, management strategies, business information and other matters
Sustainability Plan
TOP
Social and environmental issues and Material issues
Medium-to-Long-term Targets of Activity Themes
Stakeholder Engagement