Diversity & Inclusion
Becoming a "globally recognized enterprise" requires human resources that can continuously generate unique values by proactively addressing the changing world and contribute to the global business.
The KOSÉ Group is working on "Executing Diversity & Inclusion Management" as one of the 3 management foundations to achieve VISION2026. The goal is to link the diversity of each individual employee to the driving force of the company through the mutual inclusion of diversity.
Diversity & Inclusion Declaration
Transforming Diversity to Power
We promote diversity & inclusion as a foundation of creating unique values.
We aim to be an organization/enterprise that globally generates greater power and unique values based on
"Individuality" and the power of collective "Individuality" of each and all employee.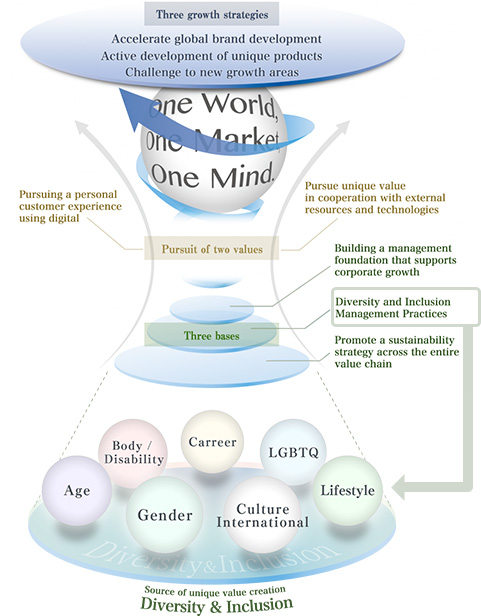 LGBTQ: An acronym for Lesbian, Gay, Bisexual, Transgender, Questioning/Queer.
As an enterprise creating beauty, we proclaim to "harmonize wisdom and sensitivity to create unique and beautiful values and culture" as a raison d'etre. We believe that respecting and empowering the diversity and inclusion of each and all team member is the source of our power to address the changing global environment and market, and continuously create unique values to our diverse customer base. As a part of our corporate management strategy we accelerate our diversity & inclusion initiatives.

Based on our "Diversity & Inclusion Declaration" that is built on "KOSÉ Human Rights Policy," we evolve ourselves into a globally recognized leading company that creates and delivers beauty by establishing a foundation where each and all employee can work with their full potential irrespective of their gender, age, nationality, and life style (treatment/education systems) and nurturing a culture (consciousness) of respecting and empowering mutual characteristics.
Diversity & Inclusion
Message from Top Management and Business Acceleration System
NITIATIVE 1: Gender Diversity (actively engaging women in the workplace, LGBTQ+, gender equality)
INITIATIVE 2: Addressing Diverse Personalities