Low-Carbon Transition Plan
As an organization engaged in addressing environmental problems being confronted by the world, the KOSÉ Group is working to preserve the global environment. We see climate change as an essential management priority in our efforts to drive business growth while helping achieve a sustainable society. The results of climate change scenario analyses have given us a strong belief in the importance of establishing aggressive targets for reducing CO2 emissions from our business activities in order to ensure temperatures rise considerably less than 1.5˚C compared to preindustrial levels.
Backdrop for Goal Setting
The KOSÉ Group is carrying out sustainable initiatives aimed at solving social problems under the KOSÉ Sustainability Plan, which was formulated in FY2020. Addressing climate change around the world has become an urgent issue in recent years, and our role and responsibilities have grown in this regard.
In order to actively contribute to reducing CO2 emissions throughout the Group as part of an effort to address the significant problem that is climate change, we have set a target in conformance with SBT1.5˚C certification.
◆ Reduce Scope 1 and 2 CO2 emissions by 55% (compared to FY2018) and Scope 3 CO2emissions by 30% by FY2030 ◆ Achieve carbon neutrality by FY2040 (Scope 1 and 2)
CO2 emissions figures will be independently verified.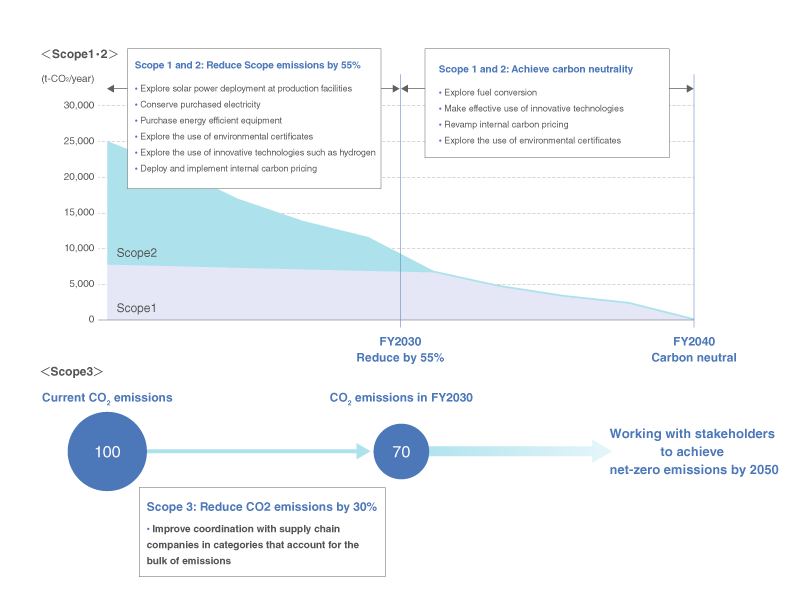 Promoting Decarbonization Strategies throughout the Value Chain
The KOSÉ Group is working hard to reduce our environmental impact not only with respect to production (Scope 1 and 2) but the entire product lifecycle, from raw material procurement to disposal (Scope 3).
CO2 emissions in the product lifecycle
Specific Measures in the Decarbonization Plan
Scope of measures
Actions
Details
Scope 1
Energy saving
Establish an electricity plan in FY2018 in a new annex at the Gunma Factory
Scope 2
Energy creation
Use cogeneration systems at the Gunma Factory
Energy saving
Procure renewable energy for the Gunma Factory, Sayama Factory, and some of other factories
Procure electricity with environmental added value for the ALBION's Shirakami Laboratory
Promote LED usage at business sites
Scope 3
Raw material procurement (Category 1)
Use sustainable raw materials to reduce carbon emissions and plastic waste
Transportation (Category 4)
Promote a modal shift
Use of products (Category 11)
Develop water saving and other eco-friendly products
Disposal of products (Category 12)
Plastic container collection program
Reduce the use of container and packaging plastic
Decarbonization Initiatives (Scope 1 and 2)
Energy saving (Scope 1 and 2)
Implementation of energy-saving measures, such as the use of blackout nets and LED lights in offices, to further reduce the power consumption.
KOSÉ INDUSTRIES' Gunma Factory

KOSÉ headquarters
Renewable energy (Scope 2)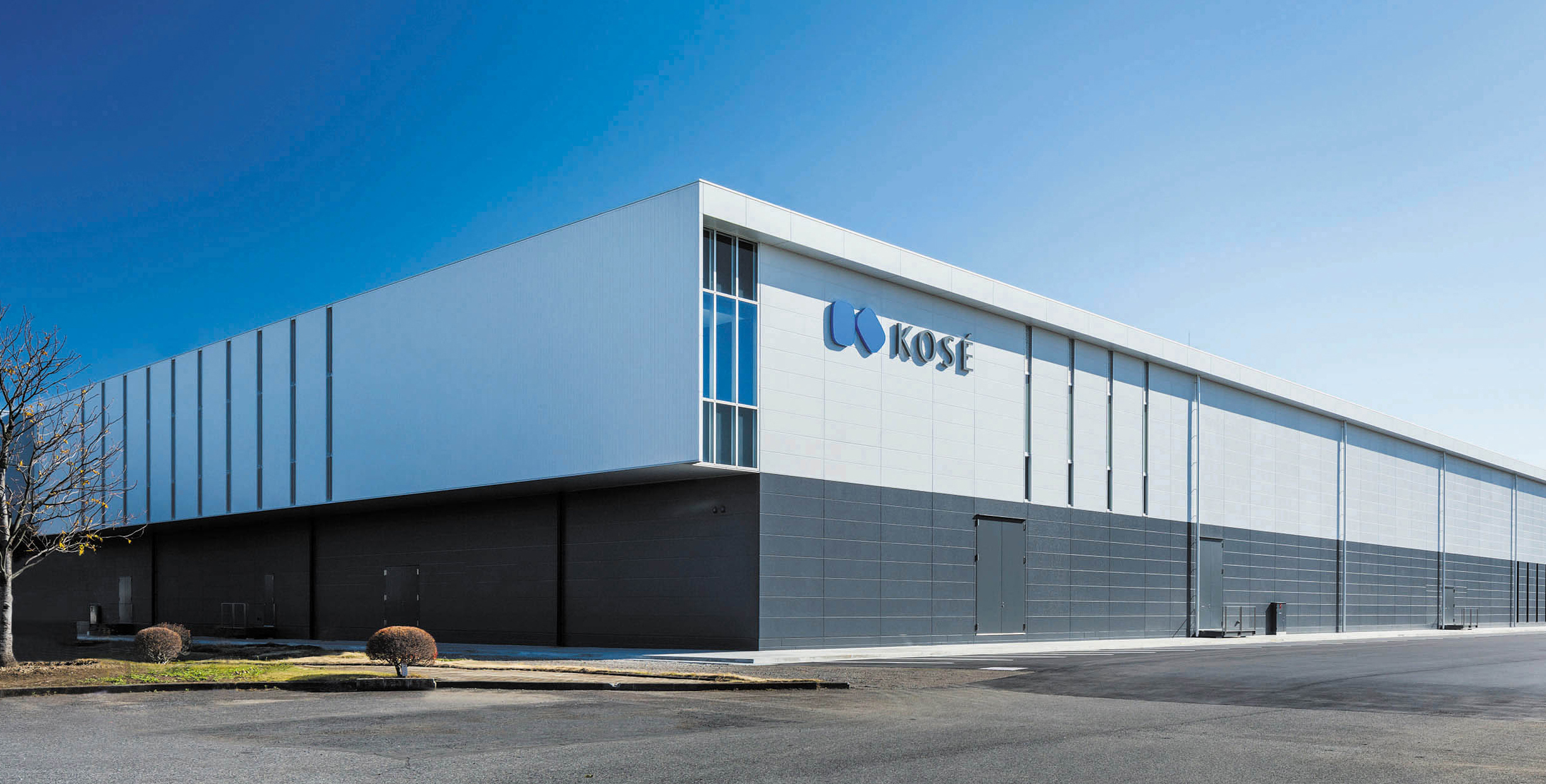 KOSÉ INDUSTRIES' Gunma Factory
The Group will procure renewable energy from KOSÉ INDUSTRIES' Gunma Factory since January 2021. We will continue to procure deployed renewable energy as we reduce CO2 emissions from purchased power.
Energy creation (Scope 2)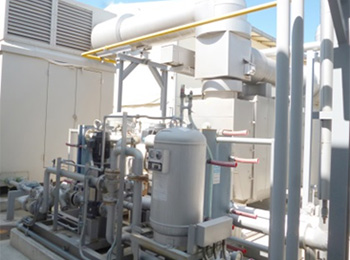 KOSÉ INDUSTRIES' Gunma FactoryCogeneration system using natural gas
We use a cogeneration system at our Gunma Factory. Generating its own electricity using natural gas and making effective use of waste heat from the motors to produce cosmetics reduces its environmental impact.
Decarbonization Initiatives (Scope 3)
Along with reducing CO2 emissions produced by its factories, laboratories, and offices, the KOSÉ Group is also working to reduce its environmental impact throughout the value chain. Reduction efforts are focused on categories that account for the majority of emissions throughout the value chain (Scope 3). These reduction efforts are also aimed at helping resolve social issues that include the problem of plastic and other waste.
Responding to climate change
Sustainability-related data – "For the Earth"
Product Initiatives (Categories 1 & 12)
Using biomass plastic and glass for the Liposome Advanced Repair Serum in the DECORTÉ product line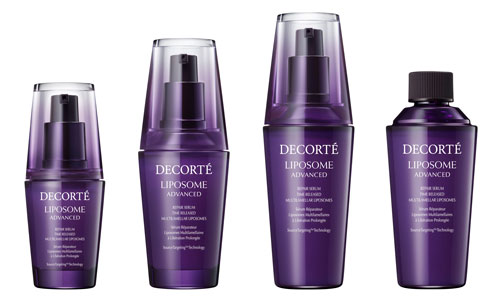 We use biomass plastic for bottles and caps.We package our 30 mL and 50 mL products in glass containers.
Using recycled PET resin for Salon Style BIOLISS Botanical haircare products from KOSÉ Cosmeport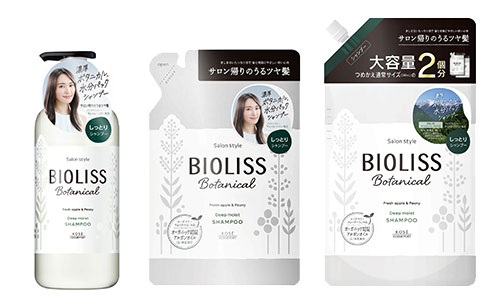 We use recycled PET for all Salon Style BIOLISS Botanical Shampoo (Deep Moist) products, including refill and large refill containers.
Using biomass plastic and cardboard material for the SEKKISEI CLEAR WELLNESS series
We reduce our environmental impact through a commitment to using eco-friendly materials for our product packaging while preserving the materials' natural texture.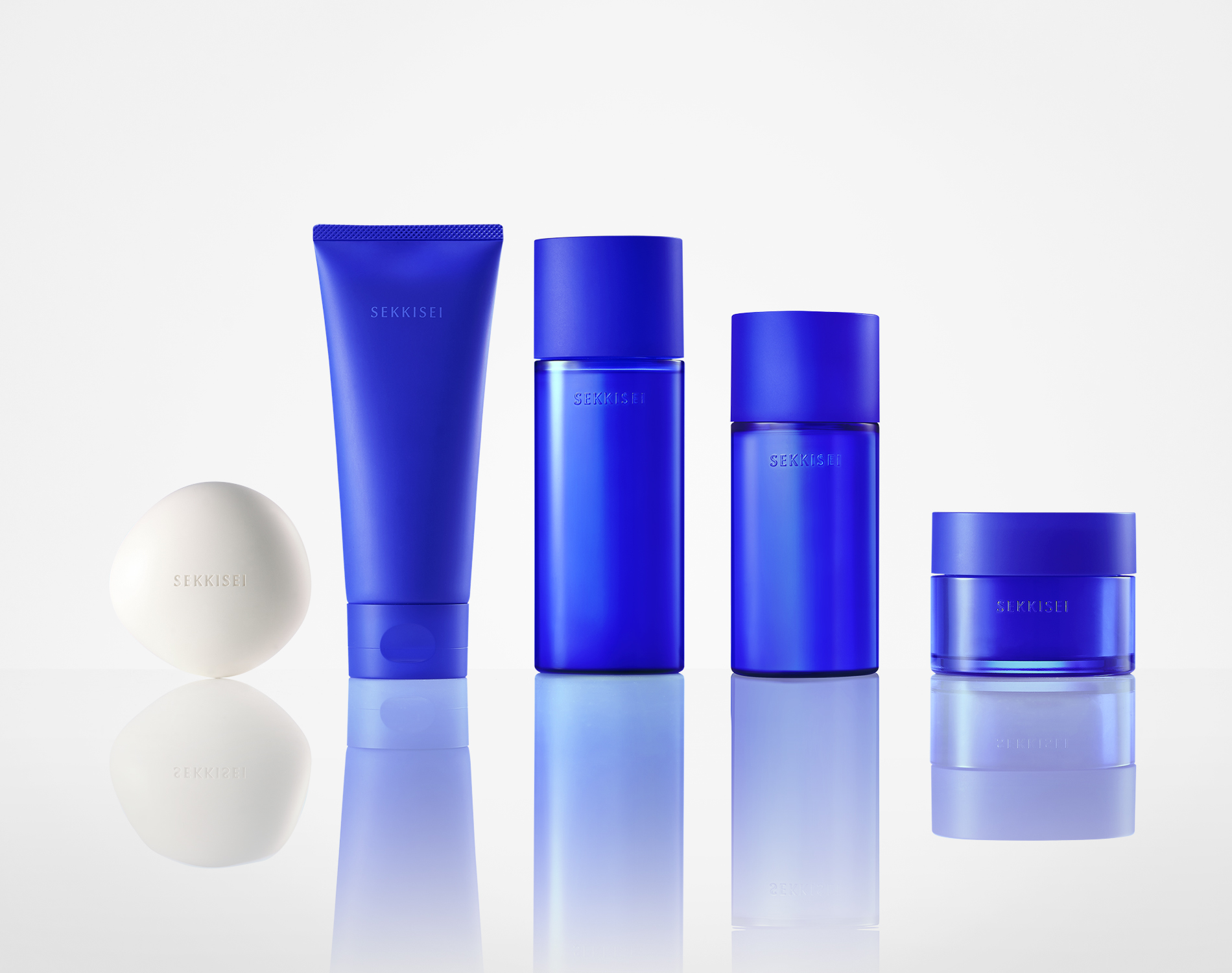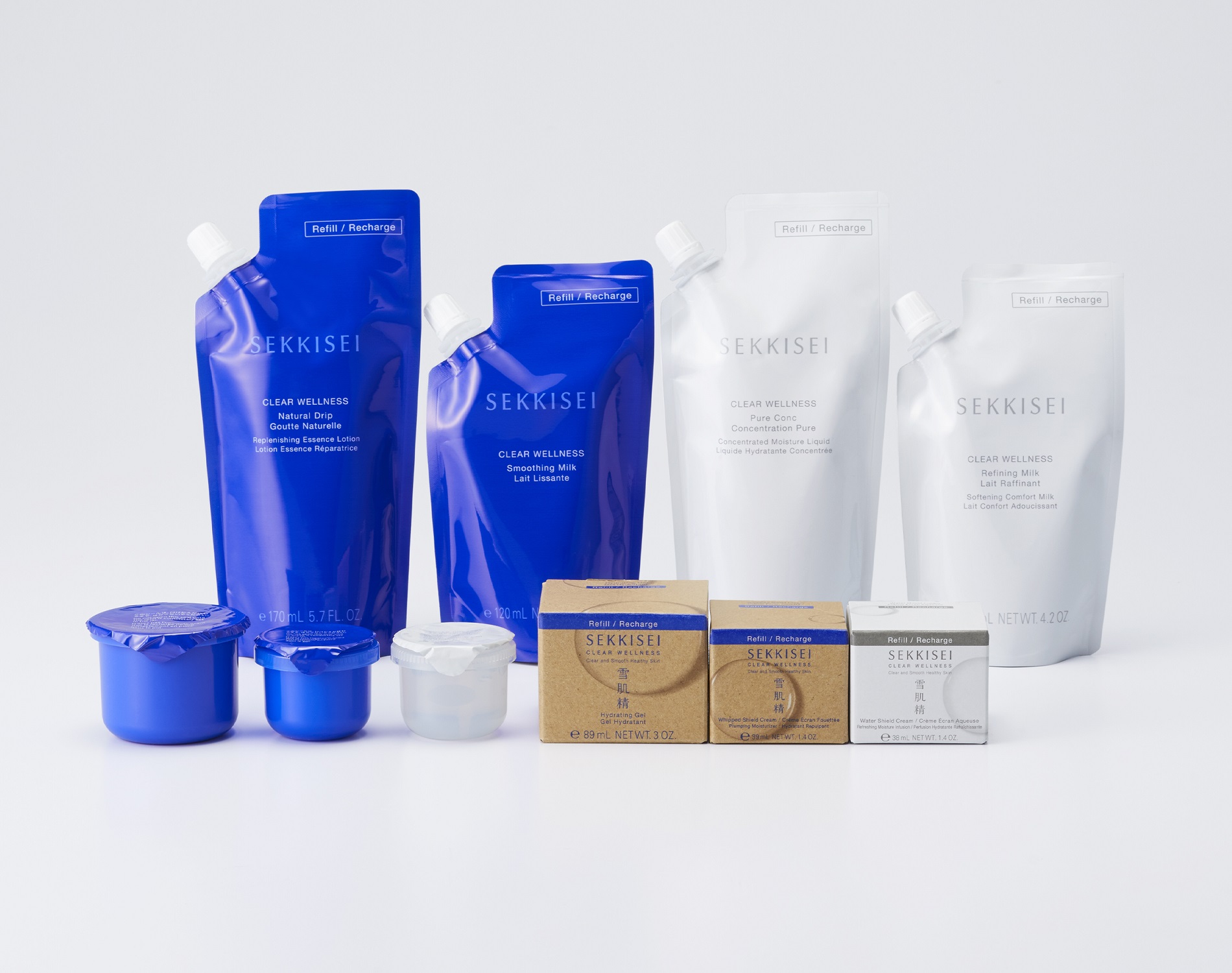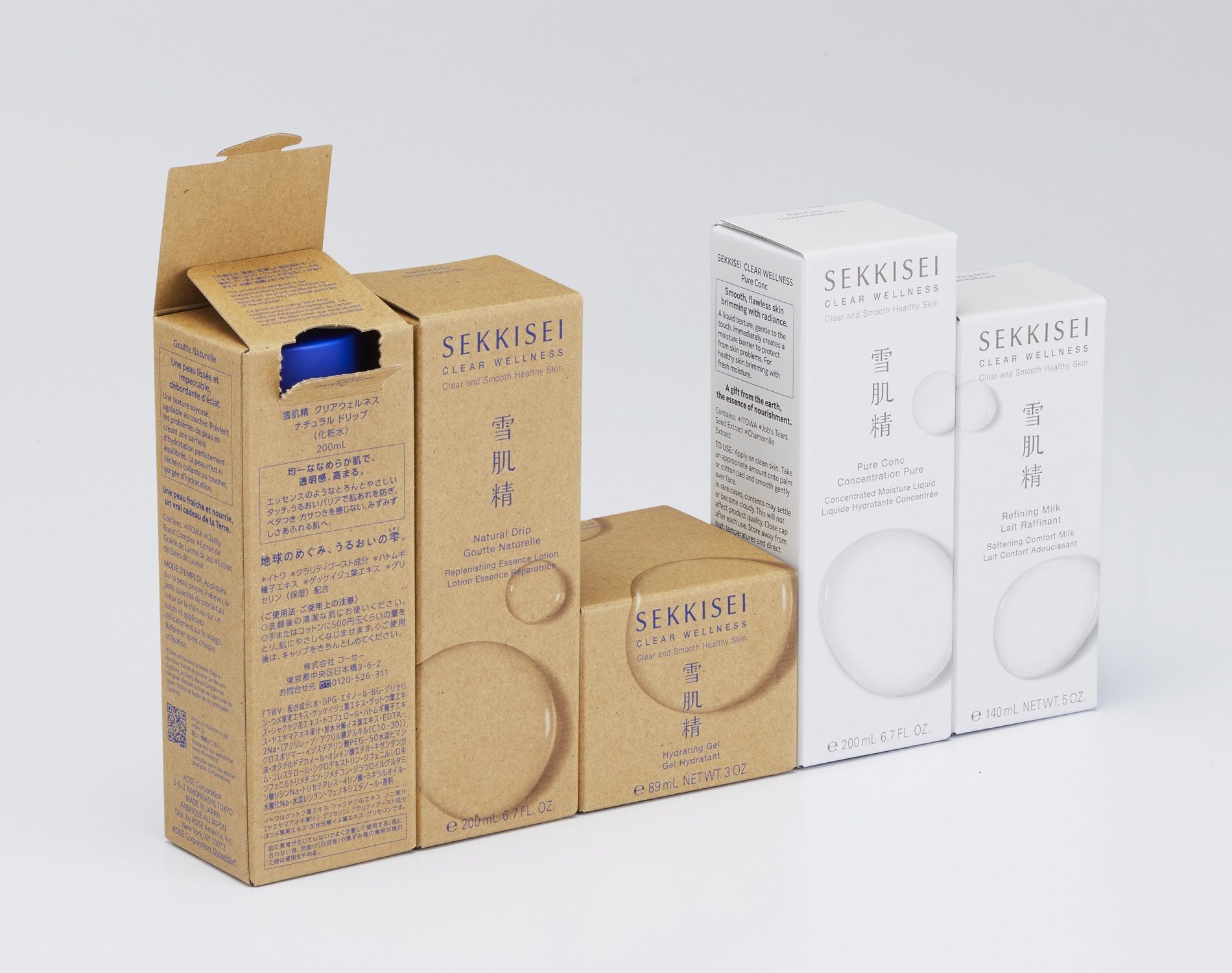 Logistics and In-store Initiatives (Categories 1, 4, and 12)
Using eco-friendly materials for the translucent films in our cosmetics sections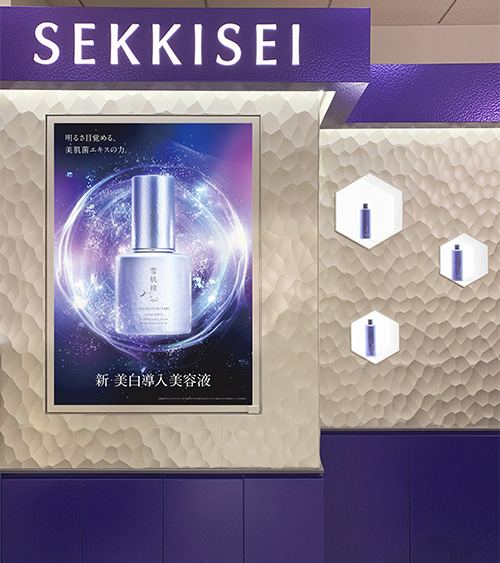 We changed the translucent film used for the backlit display at our global products corner from plastic film to LIMEX, a filler-dispersed composite material that contains more than 50% inorganic materials such as limestone.
Logistics Initiatives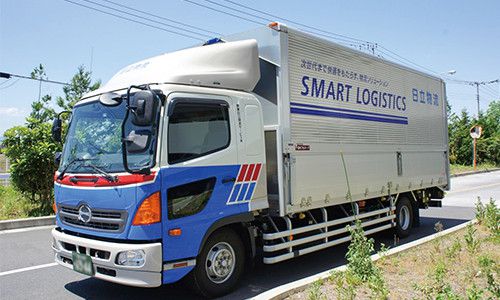 As efforts to reduce our environmental impact, along with making joint use of charter flights with other companies in the industry and improving load efficiency on transport flights to our physical distribution bases across the country, we are undergoing a modal shift whereby we are now using trains to transport goods from the Kanto region to Hokkaido and Kyushu.
In-store Container Collection Initiative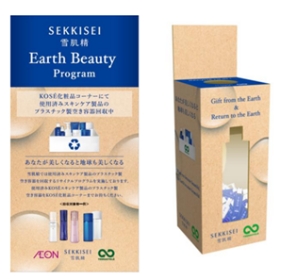 We are conducting a program to collect used SEKKISEI and other plastic containers at our Maison KOSÉ Ginza concept store, as well as at 33 AEON and AEON Style stores (operated by the AEON Group) across Japan.