Efforts at offices, logistics operations, and shops
The KOSÉ Group is actively involved in environmental conservation activities, beginning with our production departments but also extending to the marketing, sales, and administrative departments.
Environmentally Friendly Film for Backlit Cosmetics Corner Displays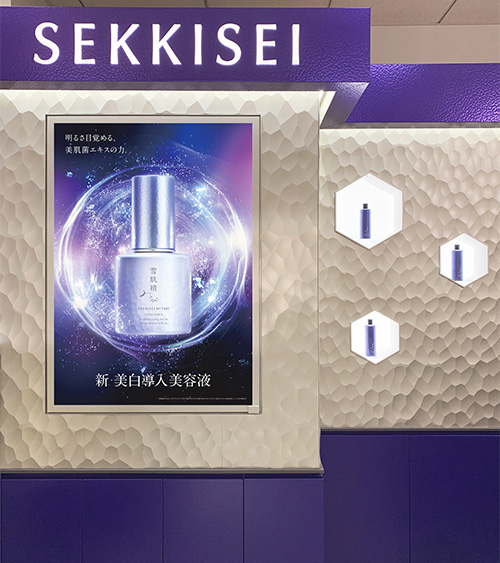 Translucent film used for the SEKKISEI backlit display in the global products corner.
We changed the translucent film used for the backlit display at our global products corner from plastic film to LIMEX, a filler-dispersed composite material that contains more than 50% inorganic materials such as limestone. Because limestone is the main raw material in LIMEX, it can contribute to a reduction in the amount of plastic used. We are considering expanding the use of LIMEX for other such displays.
We are also striving to create environmentally friendly advertising materials such as using recyclable cardboard and FSC-certified paper*, at our point-of-sale stands.
*FSC certification: Confirms that the originating forests have been evaluated and certified as properly managed in terms of the environment and local communities.
Discontinued use of boxes for delivery of sample products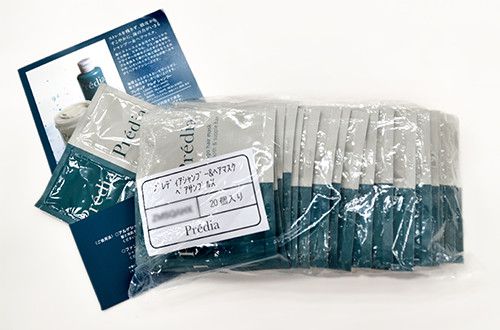 Use of a simple package instead of a box for transporting sample products
KOSÉ offers various kinds of sample products so that customers can try them out to see if a particular product is suitable for their skin or gives the expected feeling of use. In the past, to deliver samples to each store, we put a set of 20 or 50 sample products in one paper box along with cardboard bases on which product information is printed. In fiscal 2009, we replaced this paper box, which was used mainly for transportation purposes, with a plastic bag. This has helped reduce the amount of waste about one-fifth of the previous amount and the distribution quantity about one- third.
Adoption of eco-friendly vehicles
At KOSÉ Group, sales persons use company cars to visit customer site. CO2 emissions from sales vehicles of KOSÉ Corporation, KOSÉ Cosmeport, and Albion, in fiscal 2019 were 1,917 tons, a 4.9% reduction from the previous year. We are constantly switching company cars to more environment-friendly vehicles including hybrid cars. We aim to reduce 1,285 tons of CO2 emission in five years from 2016 through these initiatives.