Efforts related to products
KOSÉ strives to create cosmetic products that are "good not only to users but also to the global environment." In addition to setting strict standards in the selection of raw materials and ingredients, careful research and development are also undertaken to make products that are easy to segregate and dispose of after use, and produce less waste. Going forward, we will continue to actively develop environmentally friendly products that adapt to climate change, while giving due consideration to customer needs and market needs.
The KOSÉ Group is actively working to adopt packaging that conforms to the 4Rs* and to increase the ratio of biomass and recycled resin (by resin volume) to 50% by 2030 with the aim of achieving a 100% sustainability-conscious design rate for plastic packaging.
* Reduce/Reuse/Recycle/Renewable
Activities to Improve Containers and Packaging
The container and packaging of a cosmetic product serve an important role in preserving its contents and making it easy to use. They also provide various information about the product including the product philosophy. However, cosmetic products are still consumer products, and once they have served their purpose, their containers and packaging become waste that need to be disposed of. KOSÉ is in continuous development of containers and packaging that consider environmental impacts at disposal.
Reducing the Use of Resin in Containers & Packages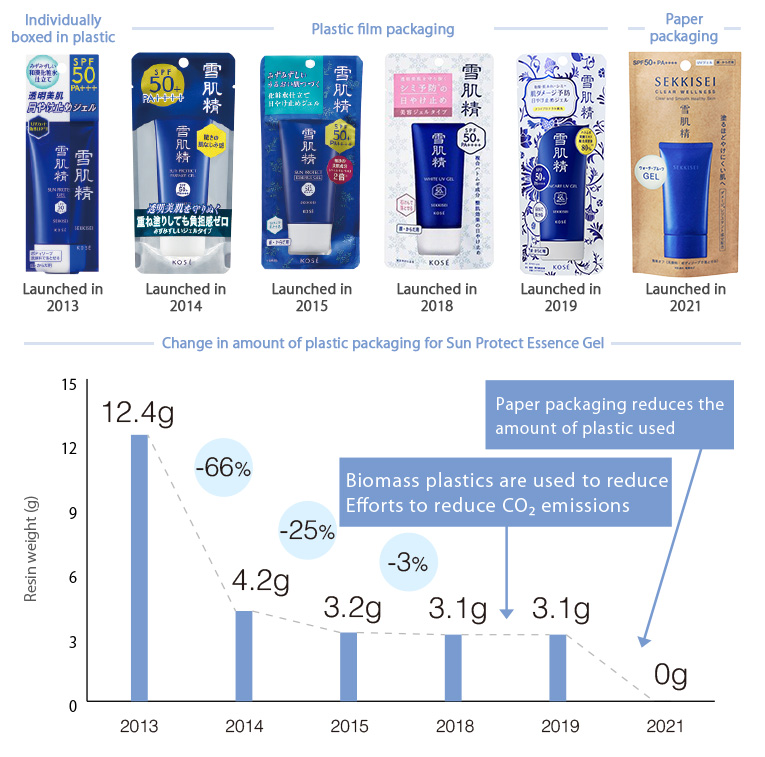 We have significantly reduced the amount of plastic packaging in our best-selling SEKKISEI Sun Protect Essence Gel, by switching to film packaging in 2014 from individual plastic boxes. This packaging is used for many of our other products, including MAKE KEEP MIST EX.
We introduced paper packaging as part of a complete rebranding of the SEKKISEI line to further reduce the amount of plastic used (see graph).
We are also actively adopting refills and replacements to reduce environmental impacts.
(1)Example of a compact container

By making the container more compact, the amount of plastic used has been reduced by 13.6g.

(2)Example of improvement from a transparent plastic box to a paper box

By changing the material of the box from plastic to paper, we have reduced CO2 emissions by about 5 tons.
(3)Examples of makeup products using film packaging

Makeup products using film packaging

(4)Example of using "paper" for bag packaging

The bottom is attached so that the product can be displayed standing up as well as hanging.
(5)Examples of specifications for changing pumps and inner containers

Liposome Advanced Repair Serum is available in a 75-mL refill container, reducing the amount of plastic used by approximately 49%. The 30-mL and 50-mL containers are made of glass.

(6)Examples of using a pouch container for refilling

Compared with the standard container, a refill pouch for ONE BY KOSÉ DEEP HYDRATOR uses 89% less plastic.
(7)Examples of a new material used for the buffer tray

A new material (paper-mixed synthetic resin) is used for the buffer tray, reducing the amount of resin by approximately 51% compared to conventional products.

(8)Example of using "paper" as a container

We are the first company to use paper cube-shaped containers. This has reduced the amount of plastic used by about 55% compared to the same container made of plastic.
(9) Example of a standing pouch with pouring spout

This standing pouch with pouring spout for ONE BY KOSÉ DOUBLE BLACK WASHER uses 50% less plastic compared with a tube container.
(10) Example of an environmentally friendly containers made with thinner walls
Salon style BIOLISS Botanical
Shampoo (Deep moist) Bottle

Uses approximately 21% less resin and recycled PET generates 36.6% fewer CO2 emissions

Salon style BIOLISS Botanical
Shampoo (Deep moist) Refills

Uses recycled PET and approximately 10% less resin

Salon style BIOLISS Botanical
Shampoo (Deep moist) Large refill

Uses recycled PET and approximately 20% less resin
Easy to refill
Container with an inner plug
that can be easily opened
We have developed a container that has a large mouth in which the inner plug can be easily opened so that non-pump type containers can be easily refilled.
Easy-to-disassemble containers made of different materials
Container desinged to be easily disassembled
Cosmetics containers made from a combination of different materials, such as metal and plastic or glass and plastic, cannot be disposed of as recyclable waste. By coming up with designs that allow each part to be separated easily, our containers are designed to make waste separation easy so that they can be recycled.
Use of plant-derived plastics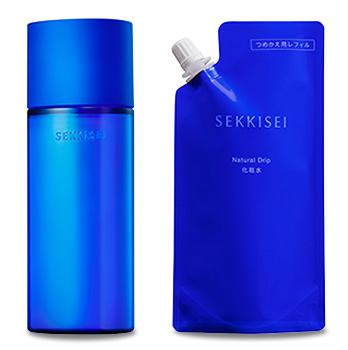 (1) By using plant-derived "biomass plastic" for some of the product containers of "SEKKISEI CLEAR WELLNESS", we are reducing the use of petroleum-derived materials and contributing to the reduction of CO2 emissions throughout the product life cycle.
By launching the refillable version, we expect to further reduce the total amount of plastic used by taking advantage of the characteristics of the "SEKKISEI" series, where many customers continue to use the same product for a long time.
For example, the amount of plastic used for refills of "SEKKISEI CLEAR WELLNESS Natural Drip" has been reduced by approximately 80% compared to the main container. In addition, by reducing the frequency of disposing of used containers, we can also reduce CO2 emissions associated with plastic disposal.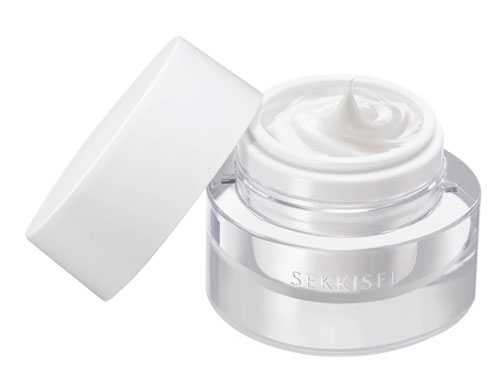 SEKKISEI CLEAR WELLNESS Overnight Cream
(2) As part of our efforts to promote the use of biomass in society to help address global warming, a portion of the container (liner) for SEKKISEI CLEAR WELLNESS Overnight Cream uses biomass PP*1 based on a mass balance approach.*2
1. Biomass PP is polypropylene plastic made with renewable organic resources such as vegetable oil.
2. About mass balance approach
A method in which "during the process of turning raw materials into final products and the distribution process (chain of custody), raw materials with certain properties (e.g., bio-based raw materials) are mixed with raw materials without those properties (e.g., fossil-based raw materials), the properties are assigned to a portion of the product according to the amount of input from the raw materials with those properties." (Roadmap for Bioplastics Introduction, Japan's Ministry of the Environment)
For example, if 10% of the raw materials to make plastic are biomass-derived, then 10% of the product is considered 100% biomass plastic.
Use of Green Nano (Resin Additive)
Packaging (laminated bags) for SEKKISEI CLEAR WELLNESS Pure Conc SS Mask and SEKKISEI CLEAR WELLNESS 1 Day Trial Free SS, and sample packages for Pure Conc SS and CLEAR WELLNESS Refining Milk use Green Nano (a resin additive), reduces CO2 when the plastic is incinerated as waste.
Green Nano technology reduced the CO2 emissions generated during plastic incineration by approximately 60%.
SEKKISEI CLEAR WELLNESS Pure Conc SS Mask

SEKKISEI CLEAR WELLNESS
1 Day Trial Free SS

Sample packages for Pure Conc SS and CLEAR WELLNESS
Use of Recycled Materials
(1) KOSÉ also manufactures cosmetic containers at our group companies. We have developed our own devices to reuse plastic leftovers from the molding process, and proactively reuse that plastic to produce caps and sample containers.
For product caps, from June 2022 we increased the percentage of recycled plastic to 50%.
Such efforts have reduced our use of petroleum-derived plastics and reduced our CO2 emissions.

Products with Caps Made of at Least 50% Recycled Plastic
INFINITY
Unlimited Key

SEKKISEI MIYABI
CYCLATOR B

SEKKISEI CLEAR WELLNESS
Face Oil Treatment
(2) Development of a sustainable compact with 85% made from recycled plastic
Melting several types of recycled plastic together produces a deeply marbled pattern. No two compacts have the same pattern.
ADDICTION The Compact Case II
"Songs of Rain"

ADDICTION The Compact Case I
"Songs of Rain"
(3) Use of chemically recycled PET plastic for product bottles
Some product bottles in our Prédia and SEKKISEI skincare lines use chemically recycled PET (polyethylene terephthalate). Since December 2022, we have been progressively manufacturing product bottles with this recycled PET.
Chemically recycled PET not only reduces resource use; it also reduces CO2 emissions in the manufacturing process compared with the PET commonly used for cosmetics containers and therefore represents an important initiative in consideration of the global environment.
Prédia
OIL DROP

Prédia
VITAL SPIRITS ADVANCED

Prédia
WHITE V

Prédia
SPA et MER
G-SERUM

SEKKISEI CLEAR WELLNESS
Gentle Wash
(4) Use of mechanically recycled PP for product caps
Mechanically recycled PP (polypropylene) is made from used PP plastics that have been sorted, crushed and washed to sufficiently remove surface dirt and foreign matter, then exposed to high temperatures to remove purities.
Coen Rich The PREMIUM
Wrinkle White Medicated Hand Cream

Coen Rich The PREMIUM
CICA Repair Medicated Hand Cream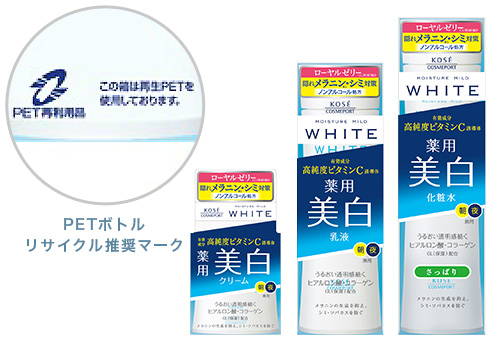 Products using recycled PET
(5) KOSÉ also manufactures cosmetic containers at its group companies. The company has developed its own equipment to re-materialize leftover materials generated during plastic molding and actively reuses them as materials for caps and sample containers. In addition, we are promoting the use of recycled materials for cosmetics containers and have adopted plastic boxes with the "PET Bottle Recycling Recommendation Mark" for some of our products.
Cardboard Product Boxes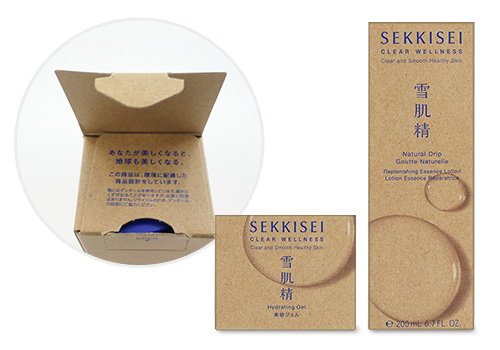 The cardboard boxes used for the SEKKISEI CLEAR WELLNESS product line use cardboard, which is said to have a recycling rate of more than 90% in Japan.
The boxes are constructed so they cannot be easily opened during transportation or display, allowing us to reduce plastic use by eliminating the outer layer of tear-tape film packaging.
Use of Recycled Paper and Certified Paper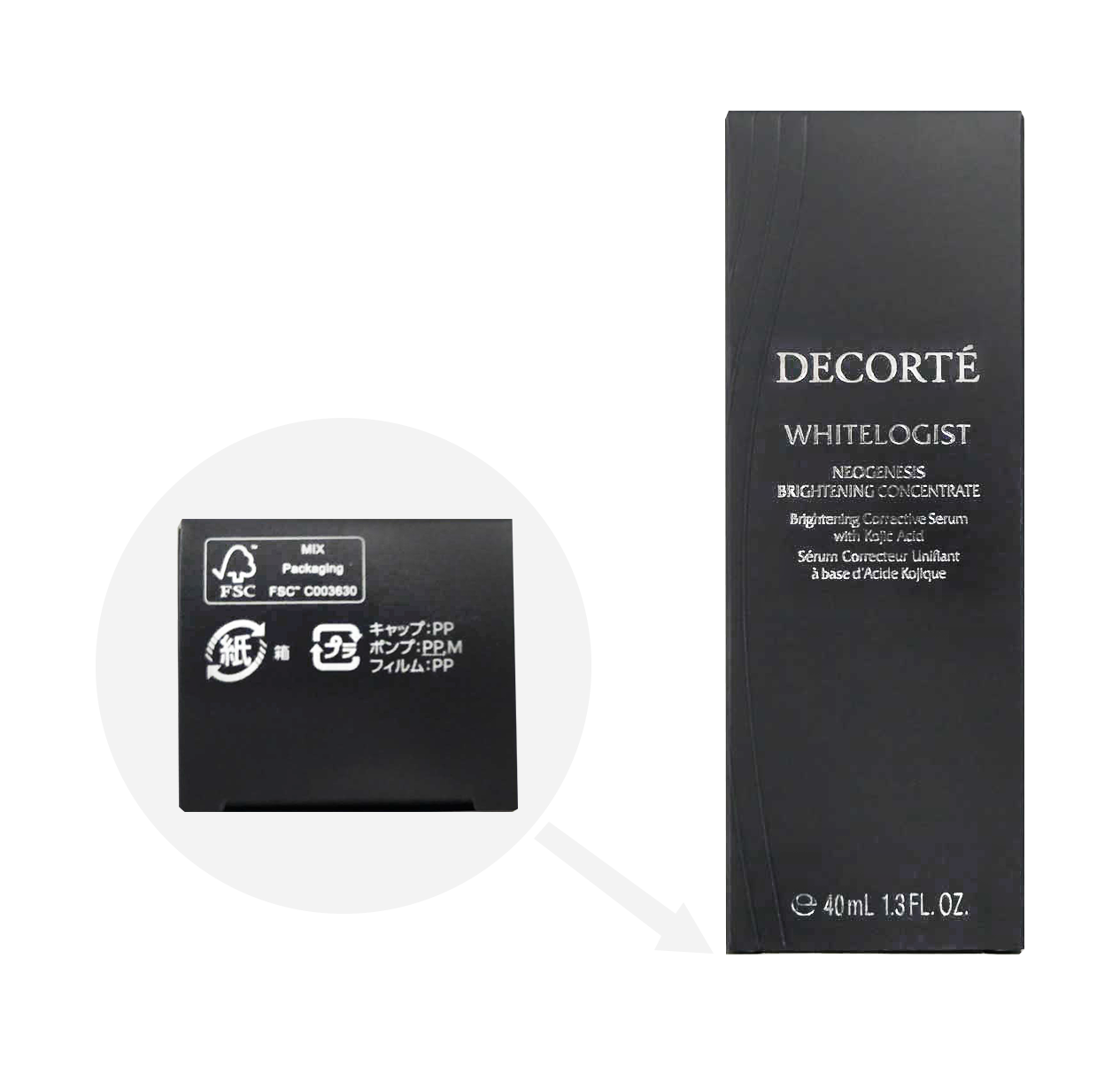 Using certified paper
We are striving to increase the use of recycled paper in all our products, including single product boxes, package inserts, pamphlets, and cardboard boxes.
For paper packaging that does not contain recycled paper, paper sourced from wood harvested from certified forests (certified paper) is used.
Proactive use of paper made from sugar cane residue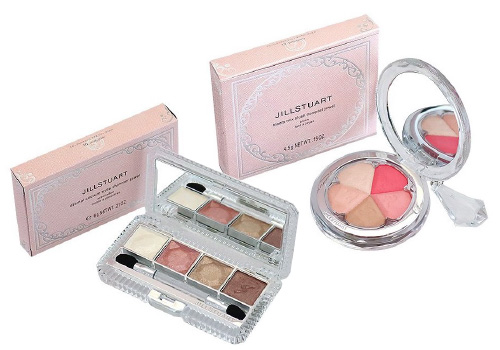 Bagasse as a raw material to create boxes
Bagasse* as a raw material to create boxes
* Paper made from sugarcane residue
Reduction of Package Inserts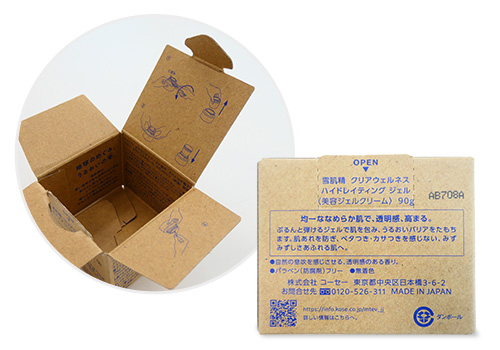 The printing instructions are on the inside of the box and the QR code is on the side.
We are making efforts to increase the number of products that do not have a paper instruction manual attached by directly printing an instruction manual, such as how to use the cosmetics, on a part of the product box (outer box). Currently, many products have adopted this method, and for some products, the instructions are also printed on the inside of the box.
We will also digitize our products by issuing QR codes to reduce the use of paper as much as possible.

For "SEKKISEI CLEAR WELLNESS", we have adopted biomass ink, which is easily biodegradable and has a low environmental impact, for printing on the product.
The notation on each box is in a size and typeface that is easy for anyone to read, using a universal font that we have established.
Activities to Improve Product Contents
The use of plant-based raw materials and environmental impacts after use are also taken into consideration in the development of the contents of our products.
Statement for microplastic beads
Microplastic beads are used as a raw material in rinse-off cleansing products. Microplastic beads are safe for humans, and have been used as a highly-functional raw material; however, in recent years their potential environmental impact has been raised as a concern both in Japan and overseas.
In consideration of the worldwide social concern, KOSÉ Group stopped using microplastic beads for new cleansing products developed since 2014, making the switch to plant derived materials with less negative environmental impact. Also we have completed the replacement of the traditional cleansing products containing microplastic beads with new products. No cleansing product containing microplastic beads has been shipped since January, 2018.
Use of biodegradable raw materials as much as possible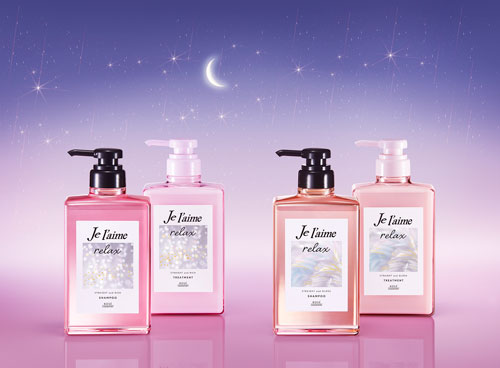 Use of biodegradable amino acid raw materials
KOSÉ uses biodegradable amino acid raw materials for some of its products, such as facial cleansing products and shampoos. Even if these products are emitted into rivers, these raw materials are easily degraded by naturally occurring microorganisms. They are used for almost all of the KOSÉ brands, including COSME DECORTE, GRANDAINE, Je L'aime, softymo and SALON STYLE.
Procurement of raw materials with consideration for the preservation of ecosystems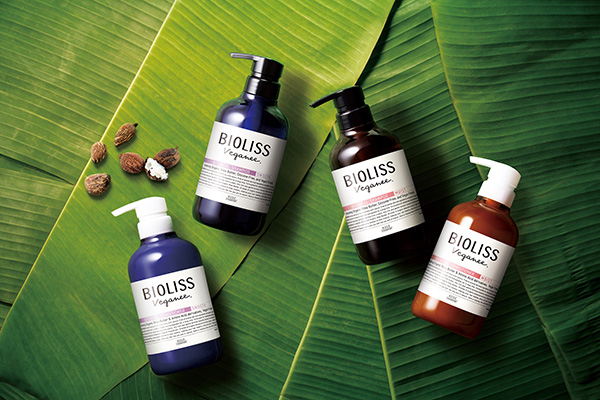 In relation to the procurement of raw materials, we focus on preserving ecosystems and supporting local communities. "DECORTÉ" and "STEPHEN KNOLL NEW YORK" products are formulated with ingredients that take biodiversity and sustainability into consideration. In addition, as part of our efforts to preserve ecosystems, we use ingredients derived from organically grown herbs in products such as "ADDICTION" and "Salon Style BIOLISS Veganee".
For the Global Environment
Top
Environmental Indicators
Initiatives to Address Climate Change
Low-Carbon Transition Plan
Measures for Circular Economy
Efforts related to products
Efforts in manufacturing
Efforts at offices, logistics operations, and shops
Overall data on environmental impact