Various Efforts to Promote Sports

KOSÉ is committed to supporting the healthy and happy lives of each and every one of our customers in order to realize our sustainability policy of "Wisdom and Beauty for People and the Earth."As part of this effort, as a company that creates beauty, we provide support for the promotion of various sports events that include elements such as "beauty," "artistry," and "fashionability" in order to raise awareness of health through the promotion of sports.
KOSÉ has developed its own water-repellent technology to improve the durability of its cosmetics and launched the industry's first sports-only cosmetics brand "SPORTS beauty" in 1981, supporting customers who wish to "be beautiful even when playing sports."Since then, in addition to providing value in our products, we have continued to support active and healthy sports life as part of our corporate activities and as a contribution to local communities.
Click here for backstage and interviews with the players.(JP)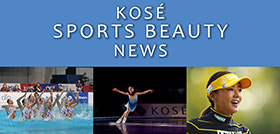 Be Active, and Fight Beautifully
Breaking (Break dance)
KOSÉ participates in Japan's professional dance league "D. LEAGUE" as a team specialized in breakdancing, "KOSÉ 8ROCKS".Dance is a popular national sport in Japan, and has been attracting worldwide attention as an additional sport to the Paris 2024 Summer Olympics, where it was officially adopted for the first time as "Breaking (break dance)".
We also cosponsor the Japan Dance Sport Federation (JDSF) Breaking and participate in the "D. LEAGUE". In the dance market which is expected to expand further, we will enliven the entire street dance environment not only in Japan but all over the world as a company that creates beauty and support "street dance" that nurture the vitality and health of people, including elements such as beauty, "artistry" and "fashionability".
KOSÉ 8ROCKS(JP)
https://home.dleague.co.jp/teams/tmbp/
KOSÉ 8ROCKS Social Media Accounts(JP)
https://linktr.ee/kose8rocks
Figure skating
Figure-skating is an art competition that shows the overall beauty of art, including selection of songs, costumes, hairstyles and makeup, as well as highly technical and artistic performances.In order to support the improvement of expression through makeup, KOSÉ continues to offer makeup expressions that cannot be done by oneself to players directly from our company makeup artists.
Make up room

Proposing make-up application to draw bold lines on the eyelids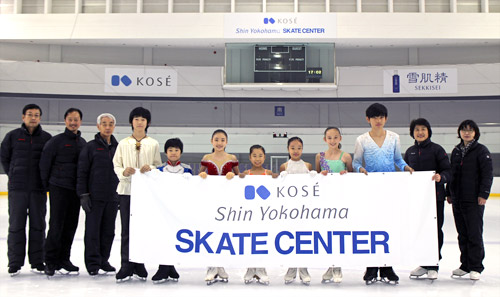 In the fall of 2017 we signed a three-year naming rights agreement with Shin Yokohama Skate Center. Since then we have been supporting their activities to develop skaters under the name of "KOSÉ Shin Yokohama Skate Center."
Artistic swimming
We created make-up designs tailored to the customs and music of the swimmers as partners of the Mermaid Japan national artistic swimming team, and offered detailed guidance about the techniques to apply the make-up themselves. The cosmetics we used were COSME DECORTE MAQUIEXPERT and FASIO, which have superior water resistance. We also educate them with appropriate skincare techniques for they sometimes practice their performance as long as more than twelve hours a day in the water.
ARTISTIC SWIMMING JAPANOPEN2019

Makeup training
Ladies professional golf
Golf is a sport in which the skin is always exposed to strong ultraviolet rays during a round.KOSÉ protects the skin from ultraviolet rays and supports skin care practices for those who wish to "be beautiful even when playing sports."In 2016, KOSÉ launched sun-cut products under the "SPORTS beauty" brand, and as a result, we have signed sponsorship agreements with 14 female professional golfers.KOSÉ protects their skin from ultraviolet rays, supporting skin care practices of women who wish to "be beautiful even when playing sports."KOSÉ also sponsor a variety of community-based sports events.
Sunscreen products from the SEKKISEI CLEAR WELLNESS series

Female professional golfers sponsored by KOSÉ

Started a contract with Yui Kawamoto in January 2020.
Skiing & Snowbording
Snowsports such as skiing and snowboarding are sports where dynamic "beauty" movement is one of their attractions.KOSÉ signed an official sponsorship contract with the Ski Association of Japan (Snow Japan) in October 2018 and a Gold Partner Contract with the JAPAN Para-Ski Federation in July 2019 to support the development of snow sports as a whole.
Signed an official sponsor contract with the Ski Association of Japan in 2017

Signed a Gold Partner Agreement with the Japan para-Ski Federation
KOSÉ's Efforts to Promote Sport
2006- Became an official partner of the Japan Skating Federation.
2006- Became an official cosmetic partner with the Japanese representative (Mermaid Japan) for artistic swimming of the Japan Swimming Federation.
2012- Became an official partner of the International Skating Union.
2016- Support for Female Professional Golfer (individual player)
2018- Official sponsor contract with the Ski Association of Japan (Snow Japan)
2019- Became the first Gold Partner for the JAPAN Para-Ski Federation
2020- Participate in the professional league "D. LEAGUE" (Opening on January 10, 2021) as KOSÉ 8ROCKS
2020- Cosponsor the Breakdance division run by a public interest incorporated foundation "Japan Dance Sport Federation (JDSF)"