Overall data on environmental impact
We make proactive efforts to reduce the environmental impact not only in the production process but also in the overall product life cycle, from the material procurement to the waste disposal process.
Overall Environmental Impact in 2022 (All Business Activities)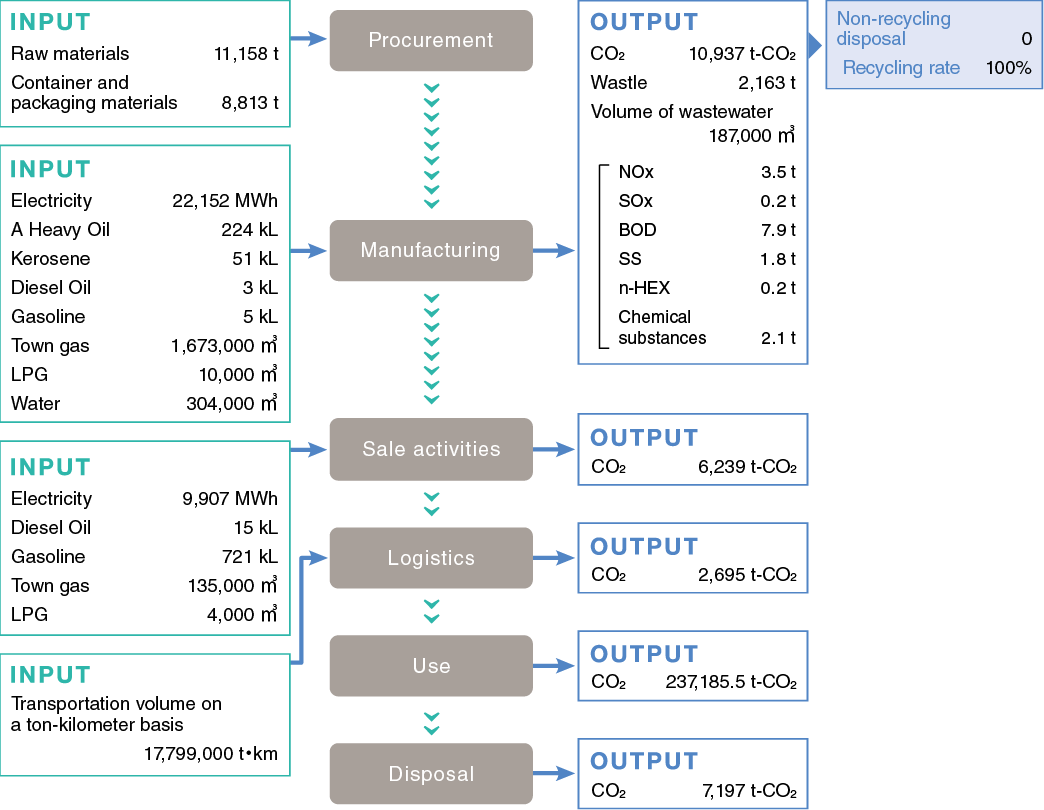 Target period:FY2022
Reportable
Procurement / production : KOSÉ Group production department
Sales activities : KOSÉ Group non-production department
Logistics : KOSÉ group companies in japan area
However, KOSÉ Co., Ltd., KOSÉ Cosmetics Sales Co., Ltd. and KOSÉ Cosmeport Co., Ltd. outsource product delivery to LOGISTEED, Ltd. and LOGISTEED Collabonext, Ltd., and reported their environmental impact.
Changes in total energy consumption
(Unit:GJ)
| | 2018 | 2019 | 2020 | 2021 | 2022 |
| --- | --- | --- | --- | --- | --- |
| Total energy usage | 483,351 | 436,700 | 464,334 | 476,557 | 435,424.1 |
Scope: KOSÉ Group
Efforts to reduce environmental impact
As businesses have been increasingly required to accurately identify their corporate environmental load in recent years, the collaboration with group businesses, overseas businesses, and business partners is becoming more and more important. Since 2018, our data collection scope has been extended and optimized to cover the KOSÉ Group as a whole. We will continue to communicate each other to further extend the data collection scope. Also, we are collecting and integrating the environmental data from the Hsinchu factory of Taiwan KOSÉ. Data shows decrease in KOSÉ Group's CO2 emission, water consumption from the year before, highlighting the success of our environmental load reduction initiatives. We continue to accelerate our commitment to decrease the environmental load by carefully monitoring the CO2 emission, water usage, and waste amount as the basic criteria. For more detail about our environmental data, refer to Sustainability Data.
For the Global Environment
Top
Environmental Indicators
Initiatives to Address Climate Change
Low-Carbon Transition Plan
Measures for Circular Economy
Efforts related to products
Efforts in manufacturing
Efforts at offices, logistics operations, and shops
Overall data on environmental impact